Creating the joy of moving while protecting the lives of those we love.
Contributing to the development of manufacturing to create an exciting future.
Our technology embodies safety, comfort, and hope for the future.
We find happiness in using our unique technology and products
to create a chemical reaction in people's lives that produces joy.
To ensure prosperity into the future,
we will continue to increase customer satisfaction and peace of mind
through reliable manufacturing.
Strengths of Nitta Chemical Industrial Products
Extensive lineup of uniquely specialized products


We offer an extensive lineup of products focused on specific industries and fields that play an important role as social infrastructure.

Integrated management of manufacturing, sales, technology, and quality assurance


We provide quality products through integrated management of manufacturing, sales, technology, and quality assurance. Many our products have passed numerous international standards and are actively used both in Japan and overseas.

Comprehensive capabilities of the NITTA Group


As a member of the NITTA Group, we conduct business activities using the comprehensive capabilities of the Group, and we are working to create a new shift in business based on our passion for manufacturing and technology.
Message from the President
While you may not see our products in your daily lives, we take pride in the fact that they help support society from behind the scenes. Our technology and products contribute to the development of society, and this results in happy customers. This is how we put our philosophy, "NITTA strives to move the world with innovative and meaningful ideas that provide the vision for a more advanced society and a more harmonious way of life," into practice.
In product manufacturing, we are strengthening our development and technical capabilities to constantly meet customer needs, and we are striving to improve quality. We continue to uncover demand in existing areas, and are working to deepen our product lineup and develop new products.
Backed by our brand concept of "Technology for Happiness," Nitta Chemical Industrial Products will continue to contribute to society through manufacturing to increase the satisfaction and peace of mind of our customers.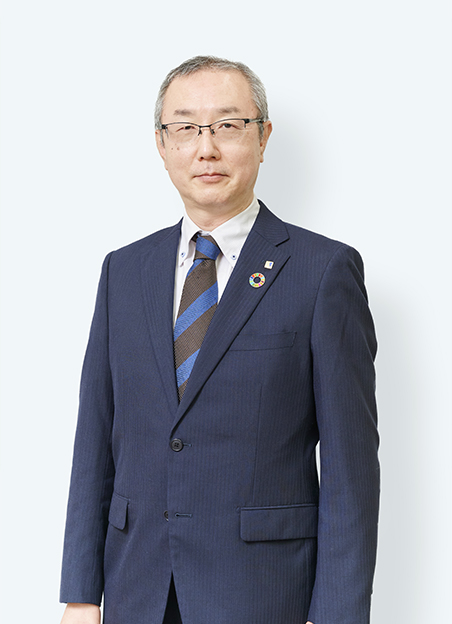 President Yasunori Fujita